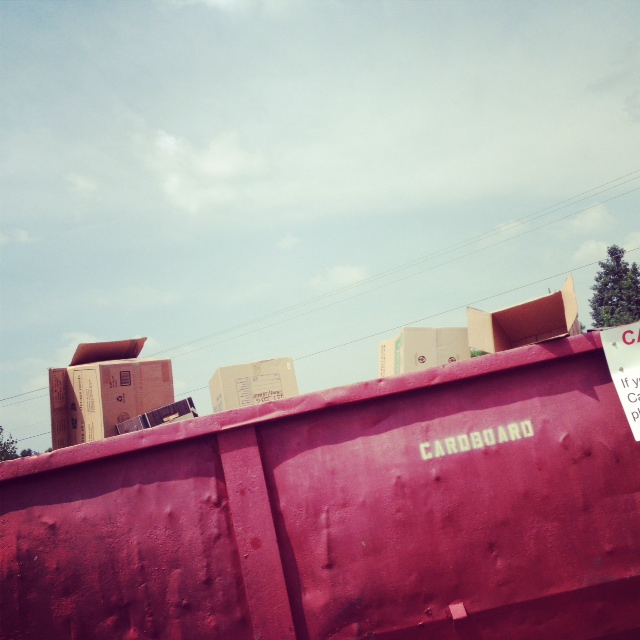 Hi there, so I've been supery dupery busy lately helping my parents move out of their house in North Carolina (yay, Mom and Dad, it's almost done) and I've been to Habitat for Humanity like 17 times and I've even been to the Charlotte Mecklenburg dump, above, which I actually found quite poetic, but whatever. Anyway, I'll be heading back to real life in San Francisco in a few days, where our new/old house awaits… for me to finish organizing. Yay for me.
So, now that we're back in our house (a post about that to come soon, maybe even with some pictures, not that I can even pretend this is a design blog because it is clearly NOT THAT at all because I wear the same pant-skirt every day), we want to feel really settled and like, home (obviously). Which means actually putting in the time to make sure all of our random odds and ends are stowed in proper places. And getting all of our living-with-a-small-child gear in working order (diapers go there – CHECK! Tiny little socks with mustaches go there – CHECK!). It also means THROWING SHIT AWAY (this is so, so important, like probably more important than whether my kid ever goes to school. Seriously) so that we don't become hoarders.
The problem? I am really not all that good at organizing. I could generously give myself a B+ at it. Ethan, on the other hand, should get an A++++ for effort and for giving a shit.* But the thing is, life with a kid pretty much REQUIRES you to be organized, otherwise you will actually spend all of your free time (I know, I know, what's that?) looking for diaper cream and that random part that makes the car seat work. If I'm going to have time for my writing, AND for momming, AND for anything else like exercising or I don't know, eating, I have to be organized. Okay, so I know that. Now I just have to figure out how to do it. If you are out there and you are reading this, and you happen to be really, really good at organizing, will you come organize me, or at least send along some helpful tips? Thanks in advance.
*If you are wondering why Ethan doesn't just organize our whole house, the answer is that his effort and his giving a shit do NOT necessarily lead to an organized house (sorry, babe). He WANTS it to be organized. He DREAMS about it being organized. That does not make the little piles of bills sit perfectly in a chic bill holder on his standing desk. In short, we need help. Help us, please.
xox