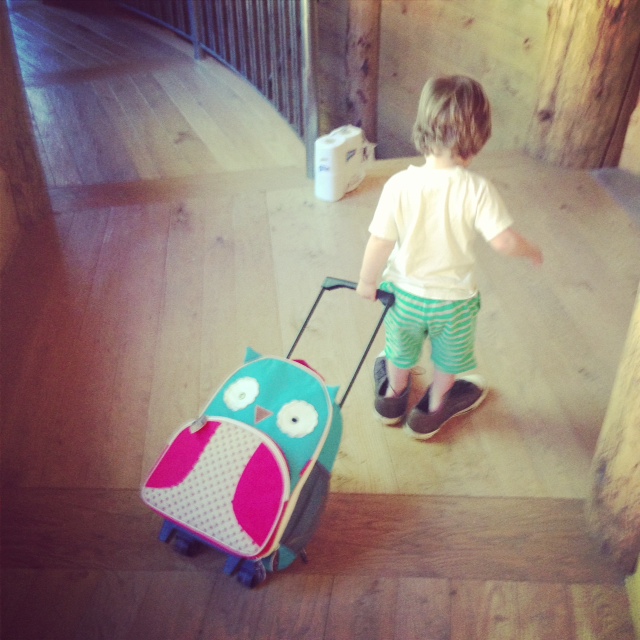 Yesterday afternoon, I picked up Wee One from "school" (it's a little home daycare program he goes to two days a week. We love it. He loves it. They make muffins, or as Ethan likes to refer to them, "muppens." Enough said) at 3pm, and for some reason I had a raging headache. One of those headaches where ALL YOU WANT TO DO IN THE WORLD is pop some Advil and lie down. But, alas, I have a wild monkey boar. Lying down is not an option, unless I want to be crawled on and have my belly button mercilessly poked.
We did head straight home. And I did pop the Advil. And then I put on comfy shorts that aren't really shorts they're a pair of men's boxers whatever, and we proceeded to play. For three and a half hours. We played Legos. We played play doh. We played trains, lots and lots and lots of trains. We played try on Mommy's high heels. We played Leo wants to pretend to go potty on the big potty game. And on and on and on. There was one point where Leo really really really wanted to press the "buppins" (buttons) on the microwave, which requires me to stand him up on the counter so he can reach. Probably against every parenting rulebook, but come on, they're just buppins.
As Leo was pushing the buttons, and taking Daddy's vitamin case and putting it in the microwave, and out again, and over and over and over, all I kept thinking (since ALL I COULD DO WAS THINK, I mean what else can you do while you're standing there spotting your 2-year-old in his microwave gymnastics efforts) was that this stretch of time, staring me in the face like a yawning blank slate, was probably far better for my kid than if I had immediately whisked him off to a toddler activity. Frankly, he's been pretty damn entertained since he was born. He's been taken to more playgrounds and rec centers and toddler gym classes and aquariums than he could possibly count if he could count without skipping number 7. Usually, we go out in the afternoons, because if we don't, he gets stir crazy (AND OH, DID HE GET STIR CRAZY YESTERDAY. By 6:30, when Ethan got home, Leo was running wildly through the house, dropping his toy wrench and hammer over the edge of the banister in spite of the ensuing time outs, and later, treating his bath like a water theme park.)
Everything in moderation, FOR SURE. Sometimes your kid needs to get his energy out at the playground, and sometimes he needs to be able to stay home and count his toes. I was happy that Leo found things to do for so many hours. And I'd like him to be confronted with more of that — more unstructured time where he's forced to let his imagination go wild and come up with something fun to do. MORE BOREDOM. No, I don't really actually want my kid to be BORED — but I don't always want to hand him something to do. I want him to get jiggy with his creativity and make a fort out of spaghetti or something. Because I don't think I actually put Leo in this situation quite enough. I think I'm guilty of finding shit for us to do because it's easier for ME, but the fact is, the actual baby Einstein probably had about two toys, and I bet you anything one was a spoon and one was a piece of bark. So… bring on the boredom.
Do you like your kid(s) to be bored sometimes? Have you ever seen them come up with something refabulously awesome and creative because they had nothing else or better to do? Tell me about it below! xox